Conformation
Breed Standard for the Cavalier King Charles Spaniel varies slightly between the United States Cavalier King Charles Spaniel Club- the Canadian Kennel Club and the American Kennel Club.
Standards were written to take into account Breed type, appearance, size, proportion, and temperment.
Conforming to the breed standard is to be determined firstly by the breeders evaluation for a quality show potential puppy and later judged in the ring.
Size
12 to 13 inches height, weight proportionate to height between 10 to 18 pounds.
Coat
Silky and free of curl but a slight wave is permissable.
Feathering must be kept long at feet and legs and tail.
Slippers on paws must not be trimmed (except pads underfoot to prevent slipping).
Temperment
The cavalier is sporting, fearless, friendly and non aggressive and should have no tendancy to shyness or nervousness. Cavaliers that show poor temperment should be penalized and be removed from further competition.
the Four colors:
Blenheim

Rich Chestnut markings on ears and evenly spaced on head, surrounding both eyes well broken on a body of pearly white color. Chestnut blenheim spot not essential but desirable if located top of head between ears.

Tricolor

Jet black markings on body, ears and evenly space on head and surrounding eyes. White blaze between the eyes. Rich chestnut tan makings over eyes, on the cheeks and underside of tail.

Ruby

The entire cavalier is rich chestnut red.

Black and Tan

Jet black in colour with markings that are rich chestnut tan over the eyes, on the cheeks, inside the ears, on the chest, legs and underside of the tail.
OUR BOYS: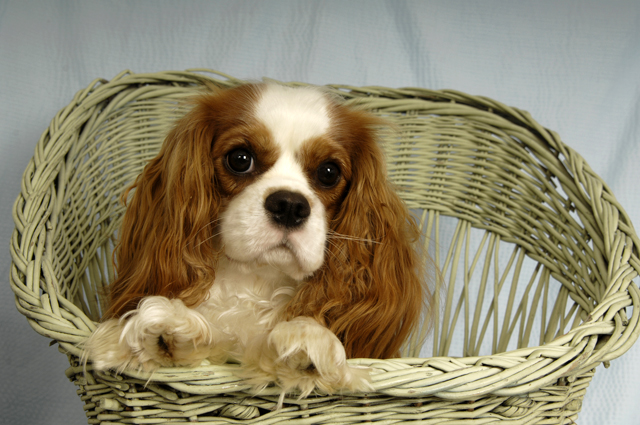 WestCourt As You Wish "Clooney"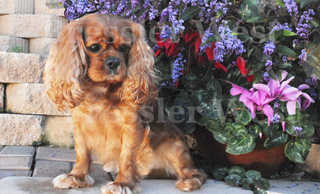 Ch. Flying Colors Kia Rio Cinco "Rio"
WestCourt DreamBoat "Beau"
WestCourt Zephyr "Z"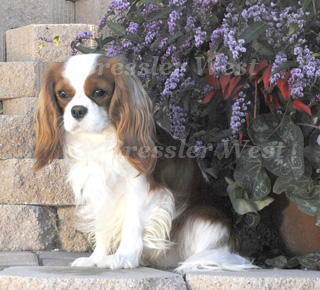 WestCourt American Legend "Darcy"
WestCourt Designated Dreamer
" Devin" 18 months
OUR GIRLS: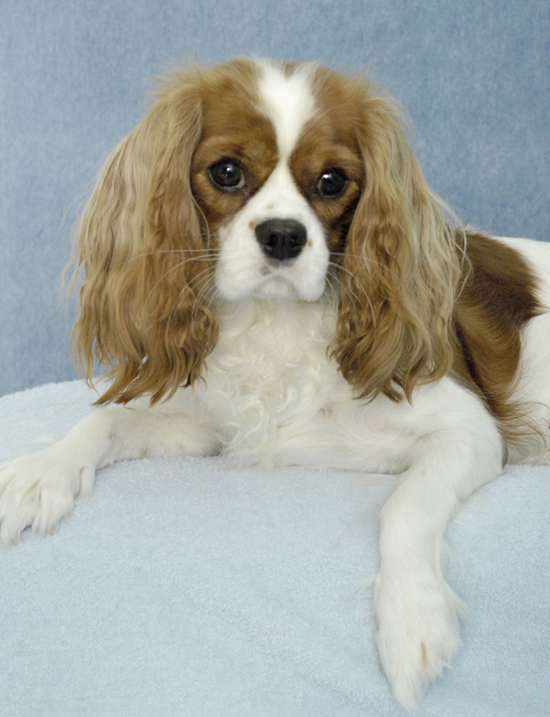 WestCourt Center Stage "Capri"
D.O.B. 1/25/2012
genetically clear for CC/DE/EF
CHIC# 99187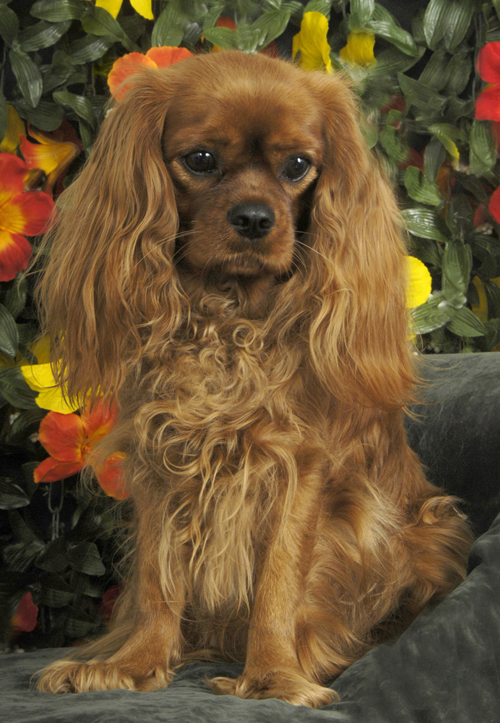 "Mia" Chiffinch Vesta Vanity, CGC
D.O.B. 2/12/2013
Mia genetically clear CC/DE/EF/DM,
CHIC# 109411
Westcourt Charm'd I'm Sure "Monet"
WestCourt Sweet Surprise Darla "DarDar"
WestCourt Daydream Believer "Bronte"
Ladybrook Delovely at WestCourt "Lovey"
Katrina at WestCourt "Trina"
Things to do with Xena while she waits to go into the ring!
top